The pace of new residential construction declined month over month in July.
Private single family home starts slipped 4.5% to 1,111,000 units, according to the US Census Bureau and the Department of Housing and Urban Development. Year over year, this represents an 11.7% gain from the July 2020 rate of 995,000.
Including the single parent family and for buildings with five or more units, the overall national rate fell 7% month over month to 1,534,000.
The seasonally adjusted annual rate for private dwellings authorized by building permits was 1,635,000 in July, up 2.6% from the revised rate in June and 6% from July 2020.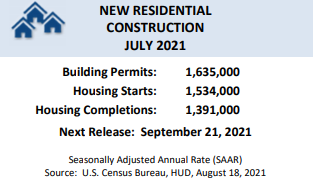 "The bright spot in an otherwise disappointing report comes from the increase in the total number of permits issued, which may indicate how much home construction is underway," said U.S. First Deputy Chief Economist Odeta. Kushi. "The importance of building more housing cannot be overstated. Inventories have been rising in recent months, but we've been underestimating for a decade, and the monthly drop in housing starts in July is not good news.
Private housing completions reached an annual rate of 1,391,000 in July, up 5.6% from the revised rate in June and 3.8% from the previous year.
By region, new construction activity in July was strongest in the South, where it increased 2.1% from June, followed by the Midwest, where it was down 6.9% and of the West, with a gain of 11.3%. The pace of housing starts, however, fell 49.3% in the Northeast.
"There are concerns that the higher prices of new homes may cause some potential buyers to pull out of the market," Kushi said. "Not to mention that builders continue to face a shortage of skilled labor, materials and land, all headwinds to accelerate the pace of new home construction.